It's true. Most people are squeamish when it comes to blood which is why many are reluctant to take an STD blood test. But not all STDs require an blood test, some require only a urine test or swab of the mouth. Even those STDs that require an blood test don't require much blood – no more than any other routine blood test you might submit yourself to year in and year out. As you'll soon learn, an STD blood test is not the big deal some may think it is.
All STD Tests are Not the Same
When you make arrangements for an STD test, whether it be with a local clinic, your own doctor, or an online STD testing provider servicing your local area, one of your first decisions will be to determine which type of STD test you'd like to receive. It is possible to be tested for one or all of the common STDs. The STD for which you are being tested will determine whether you will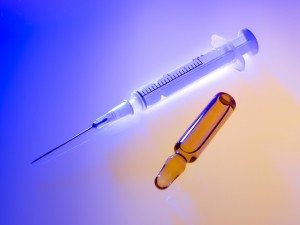 receive an STD blood test or an STD urine test, or both.
Urine Specimen
Two of the most common STDs, chlamydia and gonorrhea, require only a urine sample. In some cases, the STD can be tested for by swabbing inside a man's penis or woman's cervix.
Blood Specimen
Other STDs, such as syphilis, hepatitis, herpes, and HIV, live in the infected person's blood and can be identified using a blood test. When you visit the clinic or lab for a blood test for STDs, the lab technician or licensed phlebotomist will take only a small sample of your blood. That's all that's needed for the test. Again, the blood required for an STD blood test is similar to the blood needed for any other other routine blood test, like the tests done for cholesterol or blood sugar.
Testing at the Lab
After the blood sample is taken by the clinic or lab for the STD test and it is examined closely by a highly skilled diagnostician who puts the blood through at least one test. The blood test for STDs varies from STD to STD. For example, a sample taken for an HIV test may undergo two separate tests, while the blood taken for a syphilis test may undergo only one test. Also, while syphilis usually requires a blood test, a swab sample can be taken from the sores formed by the syphilis infection. Either is common practice.  There is also a common misconception that there is "one" test for STDs.  This is not the case.  The lab will require an order to tell them what to test for.  For example, run the chlamydia test or run the HIV test, etc.
Either test, STD blood test or STD urine test, are widely. Whichever test you choose, it's important to be tested. Many of the STDs discussed in this article do not manifest highly visible symptoms until the disease has progressed to the point where it can cause serious damage. This is why the Centers for Disease Control, or CDC, recommends that all sexually active individuals be tested for STDs at least once a year.